Department of Energy Visiting Faculty Program
ORNL participates in the Department of Energy Visiting Faculty Program (VFP). The program is sponsored and managed by the DOE Office of Science's Office of Workforce Development for Teachers and Scientists (WDTS) in collaboration with the DOE National Laboratories. The program seeks to increase the research competitiveness of faculty members and their students at institutions historically underrepresented in the research community in order to expand the workforce vital to DOE's mission.
Spring 2024 applications have closed.
Summer 2024 applications will open on October 17 at 10:00am E.T.
Description
Applications are solicited annually for 10-week summer appointments.
Selected faculty engage in research projects related to DOE's ongoing research and development programs under the guidance of Laboratory staff scientists or engineers.
Benefits
$16,000 stipend for 10-week period
Provided housing allowance for the 10-week appointment
In/outbound travel reimbursement
Eligibility
Be a US Citizen or Lawful Permanent Resident at the time of application.
Be a full-time faculty member at an accredited US degree-granting, postsecondary, institution of higher education historically underrepresented in the US research community. To be eligible, the applicant cannot be a faculty member at a Doctoral-Granting University assessed as being either Research Universities (RU/VH) – very high research activity, or Research Universities (RU/H) – high research activity as determined in the 2010 Carnegie Classification of Institutions of Higher Education™ less any institution also listed as an Historically Black College or University (HBCU) ; i.e. full-time faculty members at any HBCU are eligible.
Be a full-time faculty member in an area of physics, chemistry, biology (non medical), mathematics, engineering, environmental sciences, materials sciences, or computer or computational sciences.
Obligations
At the time of application, faculty applicants must submit a research project proposal that is co-developed with the research staff located at the host Laboratory.
Complete pre- and post-appointment surveys.
Complete the full 10-week program.
Submit a 6-8 page project report on the outcome of DOE-VFP-related project activities
Visiting Faculty Program Life Cycle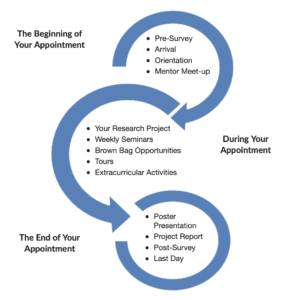 Next Steps:
Review our Tips for Applying to the DOE Visiting Faculty Program.