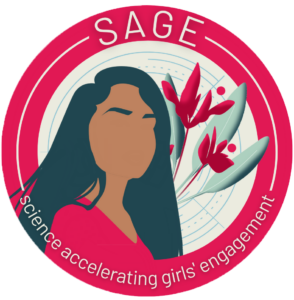 The Science Accelerating Girls' Engagement (SAGE) mission is to engage curious and passionate young women and empower them to explore a wide range of possibilities for their futures. Hosted by professional leaders who share their passion for Science, Technology, Engineering, & Mathematics (STEM), SAGE builds community, fosters innovation, and sets young women on a path to exciting careers. Learn more about SAGE Journey here.
SAGE is a week and a half long summer day-camp for high school students (ages 14-17) hosted by National Laboratory scientists and engineers to share what life is like in STEM professions. High school students will participate in hands-on activities including: hands-on scientific projects, job shadowing scientists and engineers, ORNL facility tours, STEM career talks, discussions about professional growth, and so much more. 
Camp will meet daily 10:00 AM through 4:00 PM, Monday-Friday (6/12 – 6/16) and Monday-Wednesday (6/19 – 6/21) at the American Museum of Science & Energy (AMSE) (115 E. Main St., Oak Ridge, TN 37830). Transportation to and from ORNL from AMSE will be provided during the camp's 2nd week.
SAGE Camp 2023 applications are currently open. Please apply by April 15th, 2023!
Goals for the Camp
To encourage college-bound students with a passion for discovery and innovation to become a part of the STEM community. 

To show that STEM fields offer a diverse set of opportunities: you can balance your interests in artistic expression, research, creative writing with application of your logical thinking, analytic skills, and computational ability
Learning Outcomes for Students 
Learn about the STEM community and experience what the everyday life of a scientist or engineer is like

See how STEM allows you to explore and balance many interests
Meet women in STEM at various stages of their careers, as well as, meet and connect with other students with similar interests and become part of the SAGE community